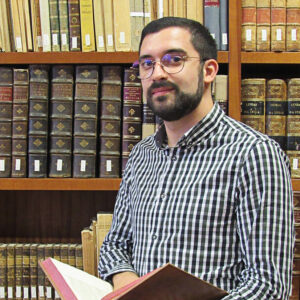 Rodolfo Petronilho Feio
Research fellow
Rodolfo Petronilho Feio has a degree in History (2015) and a MA in Medieval History (2017), both from the Faculty of Arts of the University of Coimbra.
Presently he is member of the Institute for Medieval Studies at School of Social Sciences and Humanities of NOVA University Lisbon. He is also a contributor to the Center for the History of Society and Culture of the University of Coimbra and member of the Portuguese Society of Medieval Studies.
Rodolfo has worked on the research and dissemination of scientific projects. In the past years he presented several works at national and international meetings and authored book chapters and articles in scientific journals.
He is focusing his research on themes related to institutional history, social and local, and currently works as a research fellow for the VINCULUM project.